Schools Service in Greater Dallas-Fort Worth Area
Flooding can have profound effects on a community if it impacts a local school or university. Water damage can ruin property, create health hazards and hinder the development of students if not restored by a professional water damage restoration company within 24-48 hours to prevent mold damage.
Dalworth Commercial is your best choice for immediate restoration and recovery after a major water intrusion incident on your campus. We have the knowledge, experienced water damage specialists and advanced drying equipment water cleanup and water removal and for returning school operations to normal.
How Water Damage Affects Schools
Water damage goes far beyond unwanted water seeping into classrooms and the disruption of regular academic activities. If your school has experienced recent flooding, watch out for the following water damage signs:
A Musty Smell – Water intrusion can leave behind a musty smell long after the water subsides. This smell comes from microbial growth spurred by the water. This smell can be difficult to get rid of and it's very distracting to both students and educators who have to hold classes in affected areas.
Destruction of Educational Materials – Books, computers, projectors and miscellaneous educational materials are vulnerable to water and they can be rendered useless within minutes of submersion in the flood.
Destruction of Furniture – Water can make wooden chairs and tables weaker than they normally should. Wood that's had heavy water exposure tends to flake, blister and get brittle. This diminishes their lifespans and piles up unnecessary costs for school administrators and local government units.
Food and Water Contamination – If the floodwater gets to your school's cafeteria or finds its way to pipelines that supply water fountains, you have a serious health hazard in your campus. Floodwater carries millions of harmful microbes that can make students sick.
Mold Infestation – Mold is a common but potentially health-threatening fungus that grows under damp conditions. In the aftermath of a flood, it's pretty common to see colonies of mold forming on floors and walls, Skin contact and inhalation of mold spores can cause a wide range of medical issues ranging from simple irritations to neurotoxicity and even cancer.
Fire and Electric Hazards – When floodwater makes contact with power outlets and exposed wiring, it can run a current that's strong enough to kill people who step into it. Water can also short circuit electrical infrastructure and start a fire. If you detect water intrusion in your educational facility, ask school authorities to switch power off right away.
What to Do if Your School Floods
In the event of flooding at your school campus, the top priorities should be student safety and minimizing water damage. Disaster Clean-up is a multi-step process. Here's a set of simple tips that can make positive differences during disaster:
Alert the School Maintenance Staff - Your school's maintenance staff members are trained to handle emergency situations involving school facilities and infrastructure. Alerting them quickly will give them a chance to apply proper safety measures and they can deploy solutions that can help contain the situation.
Evacuate Students in Affected Areas – If classes are going on as the flooding happens, calmly escort students to a safer place. Make sure everyone is accounted for and have them walk in line towards safety.
Turn off the Power – If you know where the general electric switch is and it's not in a flooded area, go ahead and shut the power down. This eliminates the chances of electrocution and electrical fires.
Identify the Water Source – If the flooding isn't caused by a natural disaster and it started near the area where you are, try to identify where the water is coming from. This could be a burst pipe, an overflowing toilet or a leaking water heater. Make sure to share this information with school maintenance staff to give them a headstart.
Contact Us For An Estimate
---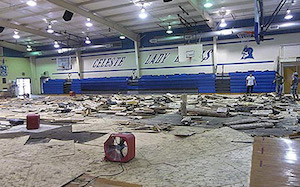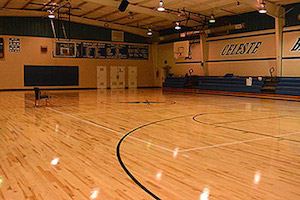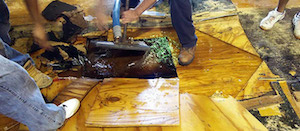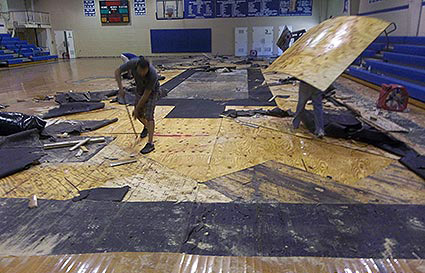 Call Dalworth Commercial – Addressing a flooded school isn't as simple as shutting down the flood source and extracting the water. Dehumidification, disinfection, repair and restoration should all be part of the process. We know exactly what to do to get your school's flooded areas back to its pre-disaster conditions. We also have the know-how for recovering water-damaged content and bringing it back to life. This can include books, furniture, appliances and more.
Contact Dalworth Commercial today for water removal and water damage restoration services to return your school to pre-loss condition. Our professional staff is ready to take your call 24/7, and we can dispatch our water damage restoration crew to your North Texas property immediately.